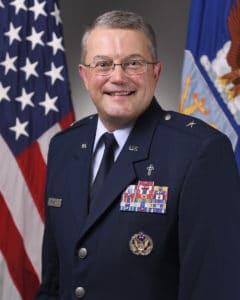 WASHINGTON, D.C. — Chaplain Brigadier General Randall (Randy) E. Kitchens received a promotion after the unanimous consent of the United States Senate Armed Services Committee on Thursday (Oct. 28). Roughly one year after being named Deputy Chief of Chaplains for the Air Force, Kitchens was confirmed to become the Air Force's next Chief of Chaplains, achieving the rank of major general.
Kitchens and his wife, Sherri, expressed their sincere gratitude to Southern Baptists for their faithful support and prayers during his decades of ministry as an endorsed Southern Baptist military chaplain.
"Pray for the Lord to give me wisdom as I serve the religious needs of our Airmen, Guardians, and their families and for the Lord alone to be glorified in my new ministry responsibilities," said Kitchens.
The promotion was commemorated during a promotion ceremony in Washington, D.C. on Monday, Nov. 8. General John Hyten, Vice Chairman of the Joint Chiefs of Staff and the second highest ranking military officer in the United States Armed Forces, promoted Kitchens.
Hyten is a former commander of Kitchens and a longtime friend. During his remarks, Hyten commended Kitchens for his years of pastoral leadership and ministry to the members of the Air Force. Reflecting on the ceremony, Hyten described the promotion as a "miracle" of God.
Doug Carver, executive director of chaplaincy for the North American Mission Board (NAMB), was in attendance. Carver served in the same position for the U.S. Army for four years before retiring from the Armed Services in 2011.
"What a tremendous honor for Randy, his family and Southern Baptists for his selection as the senior pastor of the U.S. Air Force," said Carver. "Randy is the epitome of a Christ-follower and servant leader."
In his role, Kitchens will establish guidance and provide advice on religious and moral matters that affect Air and Space Force personnel. Kitchens is also responsible for establishing "effective programs to meet the religious needs of Airmen, Guardians and their dependents," according to the job description on the U.S. Air Force website.
Kitchens will now lead the Department of the Air Force Chaplain Corps, which is made up of approximately 2,200 chaplains and religious affairs airmen who serve both in active duty and reserve roles. He will also continue serving as a member of the Armed Forces Chaplains Board, providing insight to the Secretary of Defense and the Joint Chiefs of Staff on matters related to religion, ethics and quality-of-life.
Kitchens's military service as an Air Force chaplain dates back to 1987 when he entered as a Chaplain Candidate, becoming a Reserve Chaplain in October of 1990 at the Air Reserve Personnel Center in Denver. Three decades of service took him around the United States and the world as he provided spiritual and ethical guidance during his various assignments.
Kitchens was born and raised in Macon, Ga., and came to faith in Christ as a child. After growing up as the son of a bivocational pastor, Kitchens accepted a call into ministry himself. It was while serving at a church in Key West, Fla., that he began meeting military families and embracing the call to dedicate his life to ministering to members of the Armed Services full time.
He will continue serving at the U.S. Air Force headquarters at the Pentagon located in Arlington, Va. Kitchens and Sherri have two married children—their son, Ryan, and daughter, Kara—as well as three grandchildren.
This article was written by Brandon Elrod, writer for the North American Mission Board (NAMB). It was published on namb.net.